Block Spam, Scams, and Robocalls
December 23, 2019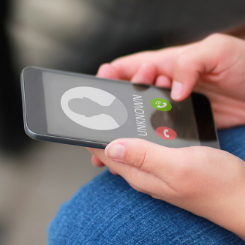 Who's calling?! Behind most unwanted phone calls is a scheme to separate you from your money. Because Redwood Credit Union cares deeply about your financial well-being, we've done some research on the topic to help you evade these
calls.
By applying some simple precautions to identify and block annoying telemarketing calls, robocalls, and scam attempts, you can protect your finances.
Register your home and mobile phone numbers with the National Do Not Call Registry, run by the Federal Trade Commission.
Registration to block telemarketers and report unwanted calls is free. Learn more.
Download a free smartphone app that can identify and block scams and spam numbers, with auto-blocking and reverse phone lookup options.
Safeguard your landline by purchasing a call blocker ($50–$200) that notifies you of suspected spam, fraud, or telemarketers.
Protective Phone Tips
If you answer an unknown number and someone asks, "Do you hear me?" don't say a word, just hang up.
If a caller tells you to "Press 1 to be removed from the call list or speak with a real person," don't do it. The scammer is testing how responsive you are.
Whenever possible, avoid engaging with unknown callers. And if you ever find yourself in a situation where something doesn't feel right, contact the Redwood Credit Union Security Center for
help.