Protect Yourself When Shopping Online
September 7, 2021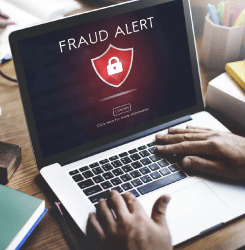 Shopping online is a great way to save time and money—especially during the holidays. It's also a great time to remember how to protect yourself against fraud and scams, which can become more prevalent during the holiday season. It's important to keep your guard up and protect yourself
from cybercriminals.
Here are common scams to watch out for:
Fraudulent websites set up by scammers are designed to trick online shoppers into entering personal or financial information.
Gift cards are a scammer's favorite way to steal your money. Anyone who contacts you and demands that you pay them with a gift card, for any reason, is always a scammer.
Phishing emails lure victims with holiday deals or offers that encourage you to click on malicious links.
Here are tips to help you give gifts, not personal information:
Check out the seller. Make sure the retailer is legitimate and has few or no negative comments about them. You can find reviews readily on Amazon or type the name of the company plus the word "reviews" into a search engine.
Use secure checkout. Before you enter your credit card information online, check that the website address starts with https://. The S stands for secure. If you don't see the "s," don't enter
your information.
Keep software and virus protection up to date. Always choose strong passwords for your online accounts, using a combination of upper case, lower case, numbers, and special characters. Using a phrase or sentence is good practice.
Don't use public Wi-Fi. Public Wi-Fi in coffee shops, shopping centers, or hotels is often unsecure, which means any information you send while connected to these networks can be accessed by fraudsters. Using your own mobile
data is more secure than public Wi-Fi.
Use your RCU credit card. At RCU, you have zero liability for fraudulent charges. This means if you didn't authorize it, you don't pay. You can set up text and email alerts for any type of transaction or amount on
both debit and credit cards to help you take fast action in case of a fraudulent charge. Please notify us immediately if you notice any unauthorized activity on your account.
With a little careful planning, your holiday season will remain one of only joy. Be smart, be cautious, and know that RCU has your back. For more information, visit redwoodcu.org/security.