Unemployment Benefit Scam
October 27, 2020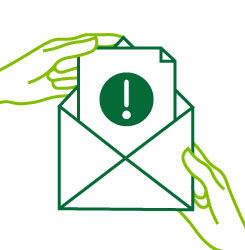 Thanks to so many people being out of work due to the coronavirus, a current scam making the rounds involves unemployment benefits. Imposters are filing claims for unemployment benefits using the names
and information of people who haven't filed a claim. The first hint the fraud has taken place is when a notice arrives about the supposed application for benefits.
If this happens to you, act fast. Here are steps you can take to protect your finances and your credit:
If you're currently employed, inform your employer.
Report the fraud to your state unemployment benefits agency. You can find state agencies here. If possible,
make your report online and keep any confirmation or case number you get. If you speak with someone, write down who you spoke with and when.
Visit IdentityTheft.gov to report the fraud to the FTC and get help with next steps, such as placing a free, one-year fraud alert on your credit, getting free credit reports, and closing
any fraudulent accounts opened in your name.
Review your credit reports often. For one year, you can check your reports every week for free through AnnualCreditReport.com. That way, you can spot new fraud quickly.
The false unemployment payments are usually deposited to the imposter's account. But sometimes they go to the real person's account, instead. If this happens, you may get contacted by the imposter, pretending to be your state unemployment
agency and saying you need to send the money back. Don't fall for that.
If you get benefits you never applied for, report it to your state unemployment agency. Don't respond to calls, emails, or texts telling you to wire money, or send cash or gift cards. Your state agency will never tell you to repay money
that way.
If you have more questions about this, please email our fraud team at fraud@redwoodcu.org, or log in to your RCU account to send a secure message. We're here to help.