Outwit Vaccine Scammers
March 12, 2021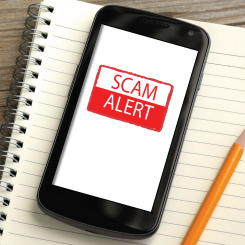 Fraudsters will try, any way they can, to gain personal information or money from people. And our need to get access to the COVID-19 vaccine gives them another opportunity to do so. But forewarned is forearmed, and with these tips, we'll help you outwit vaccine scammers.
Facts about the vaccine process:
It's not possible to pay for early access to the vaccine, so if someone brings up a fee, that's a red flag.
Medicare covers the cost of the COVID-19 vaccines, and they're also free to some others, though providers may charge an administration fee.
Be wary of:
Anyone who asks you to pay in advance for the vaccine. You won't have to pay to receive the COVID-19 vaccine when it's your turn. If you're asked to pay or provide private information, that's not legitimate.
Those who offer to sell or ship doses of the vaccine for payment.
Unsolicited emails offering phony vaccine information. It's better if you initiate a search online and click a legitimate link for information. (Scroll below the ads at the top of your search results for more objective links.)
Scammers trying to sell fake versions of vaccines. Consult your primary care physician before having any vaccination.
Advertisements for vaccines through social media platforms.
Anyone who offers to pay you to get a vaccine. Be especially wary of someone asking for your account information (including username and password for online banking).
Get proactive.
Consult your state's health department website for up-to-date information about authorized vaccine distribution channels. Here's a link to the California Department of Public Health's COVID-19 Vaccination Program page.
You can also visit the Centers for Disease Control and Prevention (CDC) for useful information.
Schedule your appointments through a verified platform. Some scammers are creating fake pages for scheduling as a way to gain access to your information. It's best to schedule an appointment through your health department or local pharmacy.
Always listen to the little voice in your head. If something seems fishy, slow down. No legitimate person or organization will object if you say you plan to verify whether an offer is genuine. (Scammers, on the other hand, may try to bully or scare you
into complying with their requests.)
It's a shame that some are taking advantage of what should be a hopeful moment. But if you use the tips above, it will go a long way in thwarting the scammers and ensuring your peace of mind throughout the vaccination process.