Payroll Services
Streamline your payroll process
Spend less time worrying about paying your employees and more time running your business.
Overview
Get trusted payroll services through RCU's partnership with Paychex®1. Established in 1971, Paychex has built a world-class business combining payroll technology and world-class service. Take payroll and payroll taxes off your plate so you can focus on what you do best.
Limited time offer
Receive one month of free payroll services2 when you sign up for Paychex Flex® payroll services through Redwood Credit Union.
Schedule Appointment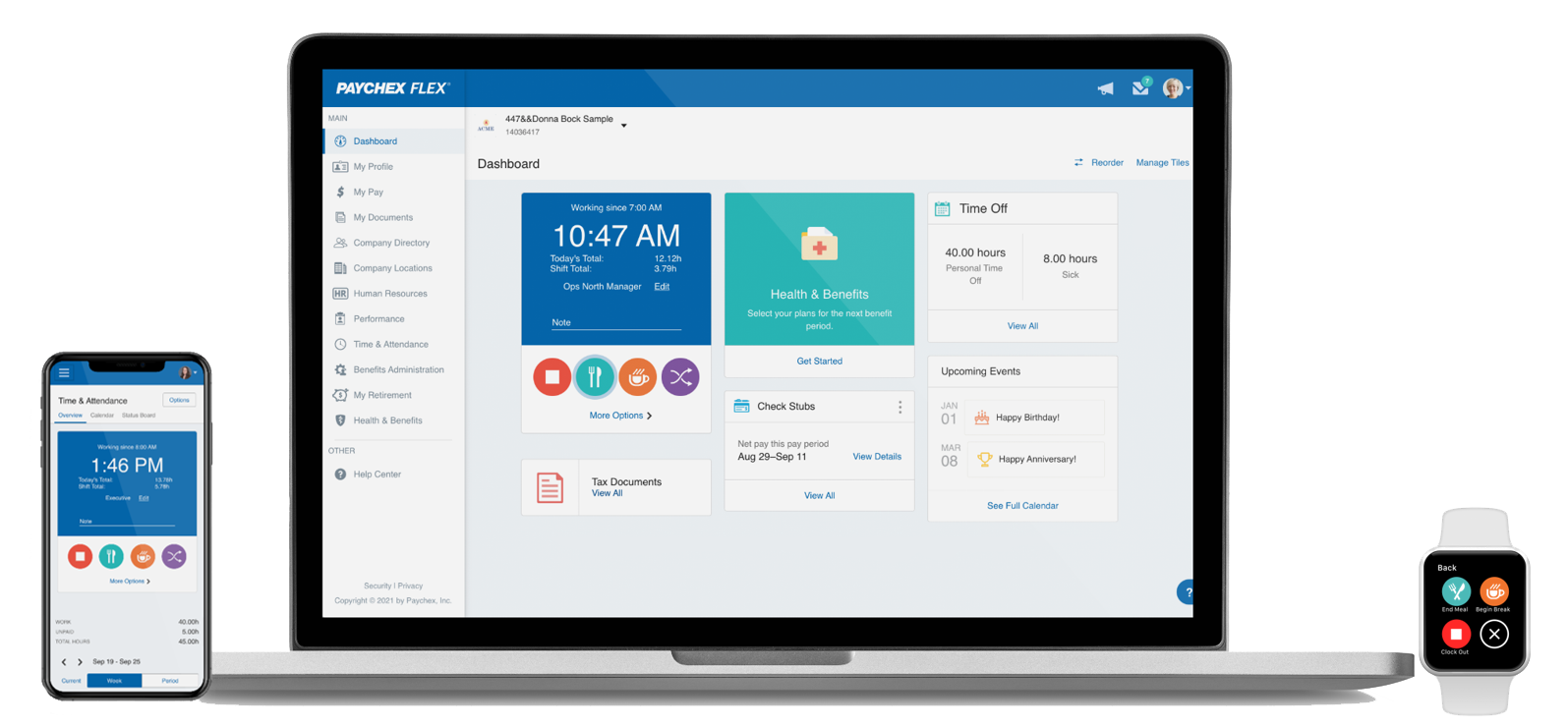 Highlights

Automatic payroll and taxes

Save time and ensure accuracy utilizing online tools or full-service expertise.

Tax and regulation monitoring

Rely on Paychex's dedicated tax and HR professionals to help you stay compliant.

Award-winning mobile app

Manage attendance and payroll while on the go with 24/7 U.S.-based support.

Employee self-service

Let your team log in, manage attendance, request time off, and view tax documents.

Same-day ACH3

Keep your cash in hand as long as possible.

Robust reporting

Get insights into your payroll and HR data with dashboard analytics.
ERTC Services
(Employee Retention Tax Credit)
Your business could be eligible to get back tens of thousands of dollars you paid in qualified wages between March 2020 and September 2021. Connect with Paychex to see if you qualify for a refundable tax credit.
1

Schedule an appointment

Complete the form to get in touch with a Paychex account specialist to discuss the options available.

2

Set up services you need

After your personalized consultation, set up the services that are best suited for your business.

3

Focus on your business

Rely on Paychex to manage your payroll, HR, benefits, and more with an industry leading all-in-one solution.
1Redwood Credit Union partners with Paychex® to provide payroll services. Paychex is a registered trademark of Paychex, Inc.

2The one-month free off Paychex Flex®, Pro, Select or Enterprise Services promotion (the "Promotion") will run from 10/1/2022-1/31/2023 (the "Promotion Period") unless ended earlier by Paychex and is subject to the following terms and conditions. The Promotion shall consist of one (1) month of free Paychex Flex® Pro, Select or Enterprise Services (the "Services") to Eligible Clients in month one (1). An "Eligible Client" shall be a client who is (1) not currently receiving the Services from Paychex; (2) elects either the Paychex Flex® Pro, Select, or Enterprise Services by entering into a Services Agreement with Paychex (the "Agreement"); (3) has been referred by Redwood Credit Union by January 31, 2023; and (4) commences the Services on or before February 28, 2023. Eligible Clients must be receiving the Services pursuant to the Agreement to receive the Promotion, and any unused part of the month is not redeemable in U.S. currency or for any other entity. The Promotion applies only to the Services, and Eligible Client shall be solely responsible for all fees due for services other than the Services. The Promotion is a limited time offer.

3Additional costs and restrictions may apply
Contact Payroll Services
Ready to receive a free, custom quote for payroll services?
Please contact our payroll partners at Paychex® 1 (800) 400-2439.
PPP Forgiveness Application Deadline
Congress passed The Economic Aid Act which changed the deferment period from 6 months post covered period to 10 months post covered period. For example, if your covered period ended June 30, 2021, under the new guidelines the earliest your first loan payment wouldn't be due until April 2022, and you have until then to request forgiveness. Please use the following calculation to help you identify when your forgiveness will be due:
PPP borrowers may select a covered period anywhere from 8 weeks to 24 weeks.
RCU is automatically calculating your loan due date based on a 24-week covered period, if you intend on using a shorter covered period please inform us immediately as this will impact your due date.
Your correct deadline will be reflected in your online banking account.
If all or part of your PPP loan is not forgiven, your first loan payment will be due the first of the following month after a decision is made by the SBA.
Leaving Our Website
You are leaving our website and linking to an alternative website not operated by us. Redwood Credit Union does not endorse or guarantee the products, information, or recommendations provided by third-party vendors or third-party linked sites.